TSxPlus
The TSxPlus is a Safety-Related Programmable Electronic System that Fully autonomous research and development by Beijing Consen Technology Co., Ltd. The TSxPlus is uniquely suited to meet the needs of safety-related protection in process industry The TSxPlus provides a high level of system fault tolerance by means of Triple-modular Redundant (TMR) architecture. And the TSxPlus controller has been certified as complying with German TÜV Rheinland  SIL3 Functional Safety Certification of Germen TÜV Rheinland, these certifications have qualified the TSxPlus for use around the world in safety critical applications, Example: ESD, BMS and FGS etc.  In addition to SIL3 Functional Safety Certification of Germen TÜV Rheinland system, it also has the both information safety certification of Germen TÜV Rheinland and ISASecure EDSA, in compliance with the standards of the latest IEC62443 and ISASecure EDSA standards. The TSxPlus System provides Hardware and Software. The TSxPlus Hardware platform that includes: Input Modules, Communication, Main Processor and Output Modules. The Software platform includes: Architect, Architect Monitor, Architect Event, OPC Server, Architect DTMLibrary and Architect Viewer. The TSxPlus system can be configured as Modbus TCP, Modbus RTU/ASCII to communicate with the third party system. The TSxPlus is uniquely suited to meet the needs of safety-related protection in oil and gas, power, refining, chemicals, or any other industry
Feature
Hardware
Software
l Function Security & Information Security
In addition to SIL3 Functional Safety Certification of German TÜV Rheinland, the TSxPlus system also is the first and only one domestic system that has the both information safety certification of German TÜV Rheinland and ISASecure ESDA, in compliance with the standards of the latest IEC62443 and ESDA standards. It can further help users to set deep defense system and reduce risks.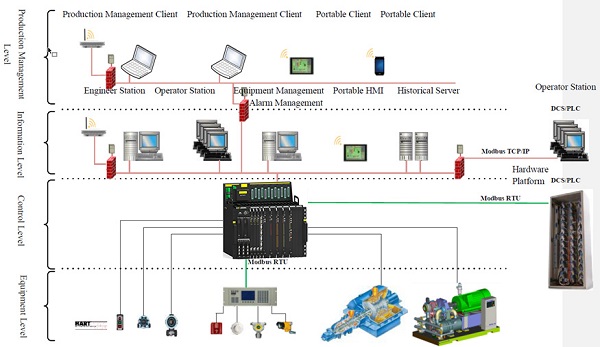 l Security & Availability
The Safety instrumented system (SIS) in process automation pays close attention to the system availability is not less than functional safety. The TSxPlus system can lower the probability of shutdown by system failure and maintain the safety grade of safety circuit after system degradation.
l Faster Response Time
Responsive time is one of the key feature of safety functions. The TSxPlus controller loop response time can be lower to 15ms, and the controller task execution cycle time can be lower to 5ms.
l Ease Using of HART
The Analog I/O modules can be connected directly with HART intelligent instrument. The Analog I/O modules internally support HART protocol analysis. By transmitting HART command through the communication link of I/O cards with Main Process, HART signal allocation and protocol conversion are physically integrated with the TSxPlus system.
l Save Assemble Space
The TSxPlus Chassis is design 482mm in wide by 483mm in high by 411mm in deep, so it can be assembled in the standard panel of 600mm or mm in wide that saved the panel room space for customer.
l Flexible Chassis Extension
Each Main Chassis and Expansion Chassis has 3 Bus Interface (BI) modules that connect across IP_BUS, IP_BUS is interconnected by Optical-Fiber. Each BI module has 3 SFP Optical-module interface, support star connection and bus connection for the TSxPlus Chassis.
l Certificates
– Function Security SIL3、Systematic Capability SC3 and Information Security SL1
– Information Security Level 1 of American ISASecure EDSA standard
– G3 Anti-Corrosion
– CE Electromagnetic Compatibility
– CE Low Voltage Directive
– CE ATEX
– cTÜVus
The TSxPlus hardware is of the complete triple redundant architecture, including input module, main processor module and output module. The combination of triple redundant architecture, high-quality self-diagnosis, 3-2-1-0 degraded mode, single independent physical card, simple and easy-to-use and other aspects brings the integration of high safety, high availability and high maintainability.
TSxPlus Hardware Components

Description

Type

Specification

Main Chassis

MC01E

Maximum 4 communication modules

Maximum 12 I/O module slots.

Expansion Chassis

EC01E

Maximum 16 I/O module slots.

Power Supply

PW01

Redundant power supply is input separately to the powered modules

Main Process

PM01E

Dual-kernel process, 800MHZ basic frequency, coprocessor with floating point;

512Mbytes memory, independent ECC memory ;

Communication Module

CM01E

MODBUS-TCP ,Peer-to-Peer,MODBUS-RTU

Bus Interface Module

BI01E

3 sets of fiber-optic interfaces

Digital Input Module

DI3201E

Single-card 32-channel, TMR architecture;

Support hard SOE function, resolution 1ms;

Analog Input Module

AI3281E

Single-card 32-channel, TMR architecture;

Channel supporting HART protocol;

Support hard SOE function;

Digital Output Module

DO3201E

Single-card 32-channel, TMR architecture;

Output hardware voting;

Single-channel maximum 1.7A drive capacity;

Analog Output Module

AO1681E

Single-card 16-channel, TMR architecture;

Channel supporting HART protocol;

Support channel breakdown and overload fault diagnosis.

Over-speed Protection Module

OSP01E

Over speed protection responsive time <12ms;

8-channel pulse input (PI) ,

4-channel digital output (DO)

2-channel digital input (DI).

Analog Input FTA

T-AI1601

16-Channel FTA for Analog Input signals

Analog Output FTA

T-AO1601

16-Channel FTA for Analog Output signals

Digital Input FTA

T-DI1601

16-Channel FTA for Digital Input signals

Digital Output FTA

T-DO1601

16-Channel FTA for Digital Output signals

OPS FTA-01

T-OPS01E

Overspeed Protection FTA-01

OPS FTA-02

T-OPS02E

Overspeed Protection FTA-02









Software Name Functional Profile

Architect Program

Comply with IEC61131-3 standard, support standard LD, FBD and ST programming language;

One item supports simultaneous configuration of multiple control station engineering and user library engineering;

Control station supports multi-task configuration;

Support undisturbed incremental downloading;

Independent simulation software and perfect hardware platform, supporting concurrent and multi-station simulation;

Graphic configuration style, visual and easy to use.

Architect Monitor

Total-direction hardware monitoring, including status, fault and version; Real-time monitoring of system running status, including version, polling time, memory occupation, etc.

Architect Event

Powerful event management capacity;

Support single control station event collection and management; Support soft and hard real-time SOE event classification and screening; Support snapshot function.

Architect DTMLibrary

Parameter setting, status monitoring and diagnosis of HART intelligent instrument.

Architect Server

Support OPC DA and OPC UA simultaneously;

Support configuration software point table direct import; Support redundancy switch;

Support data reading/writing from multiple control stations.

Architect View

Process,Monitor interface

Alarm, Event, Trend, History Event

Antisurge, Seal-Gas, Lube Oil and Speed Control